It has rained here since sometime overnight...and it's still raining. Rainy and dreary Mondays are the worst. Especially when you were up late the night before. And when you have to plan for a sub. People, I seriously worked harder today planning for my 3 day vacation than I would have for a week of being at school. I am thankful for the fiancee' and this trip to Chicago! And for a wonderful sub!!
I am starting a new feature on my little manly blog...it's Morning Meeting Monday! I will share some of my Morning Meeting mumbo jumbo! And I made a simple little button to go along with my new feature!
I am a HUGE morning meeting fan!! Here's why. Two summers ago our Kindergarten team was invited to attend the week long Responsive Classroom training by a brand new charter school ( I will not share my views on said school!). If you have participated in this training you know it's EXPENSIVE so it was very gracious of the school to include us. It's also time for some brutal honesty. An admission. A peek into Greg: I am bitter and negative toward all trainings. I am very cynical. I have spent so much wasted time in professional development where I want to scream "DUH!" when the presenters are talking. It seems like I hear things I am already doing except it has a fancy name on it. So I was skeptical (as I always am) going into this training. But guess what?? I walked away excited and energized to start Morning Meeting in my classroom. The results have been tremendous. The sense of community in my classroom is unbelievable. And I attribute that to Morning Meeting. Another great things about morning meeting is that you can quickly hit on so many standards! All of those benefits in just 15-20 minutes! And we all know we have all the time in the world when teaching right?!
With all of my raving of Morning Meeting and it's benefits out of the way...here is what my typical Morning Meeting Schedule looks like:
Greeting
Sharing
Activity
Morning Message
Today I want to share what my morning message looks like. I tend to follow a schedule with my messages. It looks something like this:
Monday-we write the letter that we're not focusing on for the week (This gives me a quick glimpse into how well the students can already write the letter and lets me know where to focus my attention! Hello quick and informal pre-assessment! Aren't I clever?!)
Tuesday-we make a bubble map of words that have the sound that we're not focusing on for the week
Wednesday-I do different things this day. Bubble maps, letter matching, etc
Thursday-Math (currently we're counting the dots and writing how man)
Friday-Nouns (we list people, places and things)
I like for my morning messages to be very interactive and predictable. We echo read the greeting and date. See, you're hitting standards already! After that I read the message which generally gives 1 or 2 highlights of the day! Then we echo read the closure! After that we have the interactive part of the message. Later in the year, the students will actually write the day, date and year so the message is even more interactive.
Here is a picture of today's message:
The Tuesday bubble map of words with the sound we're not focusing on is another quick and informal assessment so I can get a quick idea of who is "getting" it for the week and who needs some intense help.
Wednesday our message depends on what's going on and what skills or focus we might need a little help in or a quick refresher. And sometimes we make it fun. We make lists of things that are red or our favorite colors. We also do a lot of ABC order skills on this day!
Thursday we do a math skill. We do a lot of counting and numbers. We write numbers, we order numbers, we count to answer how many. We also do tally marks. We write how old we are. We make graphs (age, favorites, do you like...) It's a quick way to meet some math standards and another (WAIT FOR IT) way to get some quick, easy and informal pre-assessments! You can say it..."Boy he's clever!"
Friday is when we do nouns. Every Friday. We list people, places and things. As the year goes on we add in verbs. I love hearing all of the nouns we can come up with throughout the year. I also love that my students have a strong foundation in nouns and verbs and I never had to teach a lesson on it! By December you can ask my kids to name nouns and they can tell you people, places and things!
The power of morning meeting! Do you use morning meeting? How do you use morning message? Next week will talk about the activity part of our meeting!
OK, I have a 4:30 wake up call for my 6:30 flight for my mini-vacation to Chicago. Madonna, here we come! I plan to do some fun little posts from Chicago. And I am a firm believer that it's OK to share some fun, and personal non teaching related posts. And that's what I am going to do tomorrow and Wednesday! Stay tuned!
PS I have had lots of questions about the hats my students make on Mondays. They go with the letter and sound we're not focusing on that week. I wish I had thought of such a genius and fun idea, but I did not! These are the brainchild of Jennifer at Simply Kinder! If you like the hats, go get some. My kids LOVE them!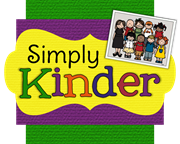 I also have seen the cute ones that
The Moffat Girls
have and I love those too! I think I am going to combine the two and make super fun hats! HMMM